Great White 3GX 19-D322 Dyneema Cut Resistant Gloves, Cut Level A3
19 reviews |
| | | |
| --- | --- | --- |
| QTY |  Price Per Pair | Discount |
| 1 Pair | $8.64 ea. | 5%  Off |
| 3 Pair Pack | $8.20 ea. | 10% Off |
| 12 Pair Pack | $7.74 ea. | 15% Off |
When you need tough protections against cuts, punctures, scrapes, and any number of other common hazards, try our Great White Dyneema cut-resistant gloves. Every pair is scientifically designed to protect your hands from harm while still allowing for maximum comfort and maneuverability. Order one, three, or 12 pairs now.
The Great white 3GX 19-D322 With Dyneema® Diamond Technology. Cut resistance can be doubled compared to Dyneema® Continuous Filament Technology. Great white 3GX has a comfort level that provides the user with cool, non-irritating cut resistant protection in the working environment. It feels like you are not even wearing gloves. But, above all, is the cost-effective and unparalleled durability that stands up to laundering for long lasting value.
Great White Dyneema cut-resistance gloves are ideal for both home and work use. Whether you are handling wood crates, sharp metal beams, or thorny bushes, these gloves will protect your hands from any unfortunate and painful accidents. With an ANSI cut level of 3, Great White Dyneema cut-resistant gloves can take quite a beating and still provide adequate hand protection under most conditions.
Fast Shipping
We know you're in a hurry to get right to work, so our services are always fast and secure. We'll ship your gloves via your requested method without delay, but only after we have carefully verified that your order is correct.
Should any errors or problems occur, call us at 1-800-974-3122. We are proud to say that our customer service is top-notch, and we will happily answer any questions or concerns. From start to finish, we want to make shopping with us as simple and efficient as possible.
All Sizes
To ensure that our Great White Dyneema cut-resistant gloves will fit right, you should measure the total circumference around the palm of your dominant hand using a tape measurer. Once done, remember that each glove size is approximately a half inch larger than the previous size. For example, XS gloves are for 7" hands, S for 7.5" hands, XXL for 10" hands, and so on and so forth.
Follow these instructions and then use the drop-down menu above to make your selection. Once you place your order, we'll send you your comfortable work gloves as soon as possible. 
Sold by the pair
ANSI Cut level 3

Seamless construction offers increased comfort and breathability

Dyneema Diamond Technology

Dyneema

®

Diamond blended shell is lightweight and provides 

excellent dexterity, tactile sensitivity and cut resistance

Glove Material Weight:

13 gauge

Available in sizes XS-XXL

Polyurethane coated palm for great abrasion resistance, excellent

puncture resistance and outstanding wet/dry grip

Knit wrist helps prevent dirt and debris from entering the glove 

Cotton color binding denotes sizing
Want to know how cut resistant gloves are rated? Click here
What are cut resistant gloves made of? Click here
PERFORMANCE PROPERTIES
EN388: 4441 ANSI Cut Level 3
ABRASION 012345 CUT 012345 TEAR 012345 PUNCTURE 0 1 2 3 4 5
WARNING:
Cancer - www.P65Warnings.ca
N,N-Dimethylformamide
Customer Reviews
Write a Review
Ask a Question
Filter Reviews:
gloves
service
SHIPPING
resistance
cloth
feel
hands
work
Nitrile gloves
Fingers
11/04/2020
Ivan H.
United States
Shark gloves
Great service and fast shipping!
07/12/2020
eric m.
United States
great white 3gx
great gloves. would recommend to others.
05/20/2020
Martin L.
United States
My favorite gloves
I've been using these gloves as my go to work gloves in a variety of situations. Typically I'm using them in metal fabrication tasks. However recently I had to do some work helping my brother out in his vineyard doing shoot thinning. That particular task is extremely hard on the fingers. My brother has a system where he literally glues athletic tape to his fingertips because every glove he's tried with enough tactile sensitivity just wears out. The task requires fingertip sensitivity and extreme abrasive resistance, it's basically digging through rough bark to find buds as small as 1/8". This is a 12 hour a day job, he was going through 2-3 sets of tape a day. I decided to try an already worn set of these gloves out for the job. All I can say is is impressive. Within a day the grip coating was worn off the fingertips, however the glove material just refused to wear out. I put in 50 hours on one pair that I'd already worn in my shop for several months of daily use, and they're still not worn through. Best gloves on the planet for combined tactile sensitivity and durability.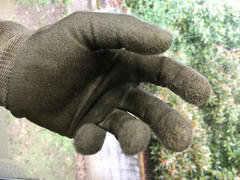 03/17/2020
Vicki W.
United States
Will be returning customer.
Very quick shipping and easy ordering system. Very pleased with service/purchase. Will definitely be a returning customer.
03/13/2020
Heather
United States
Yes!
I love these gloves. They fit snugly over your hand, while being soft and comfortable. I like that I can wear these throughout my workday without having to remove them just to use a pen to write something. However, I HATE the LARGE, floppy tag that sits directly on the top of the gloves. The tag is unsightly and irritating. The other downside is the white color. They get visibly dirty within the first hour of wearing them. They do wash well in the washing machine, just make sure you air dry them. I would love to see these in a darker color (and without a massive tag)!
---
We Also Recommend