GVS Elipse SPR467 & SPR466 OV/P100 Respirator with Replaceable Filters
4 reviews |
The Elipse SPR467 & SPR466 OV/P100 is a compact low profile Organic Vapor NIOSH respirator that weighs much less than comparable respirators. It is extremely comfortable to wear for extended periods of time which increases the likelihood the user will remain wearing the respirator in adverse conditions. The P100 captures 99.97% of airborne particles of 0.3 microns and larger which is outstanding efficiency.
The durable construction is made with a flexible hypoallergenic polymer that conforms to your face with a confident dependable seal. Two adjustable headbands provide a secure fit while the exhalation valve allows easy breathing and preventing safety glasses from fogging up.

The respirator comes with two long lasting replaceable filters and the GVS OV/P100 is 30% more compact than competitors for added comfort. These respirators are great for your Manufacturing/Automotive and Industrial segment. 
Two sizes (S/M) and (M/L). The M/L fits 75% of users. There are two models to choose from, the SPR467 Medium/Large and the SPR466 Small/Medium. 
Made in the U.K.
Model Numbers: 
SPR467     (Includes M/L Mask with High Efficiency Organic Vapor HESPA Filters)
SPR466     (Includes S/M Mask with High Efficiency Organic Vapor HESPA Filters) 
Features & Benefits>
Approved to NIOSH Standard
Dual twin OV filters installed and ready to wear 
Latex and silicone free, lightweight TPE face piece that is comfortable to wear for long periods of time
Low profile filters provide unobstructed field of vision
Compatible with other PPE safety products including Safety glasses and Hearing protection

New Filters with Low breathing resistance, increase in gas performance and greater duration of use

These respirators are great for your Manufacturing/Automotive and Industrial segment
              Optional Accessories:
Elipse SPM009 Carry Case for GVS OV + AG Mask 
SPR468/SPR474 Replacement Filters
Specifications:
| | |
| --- | --- |
| Description | Elipse OV/P100 ready to use mask with replaceable filters |
| Materials of construction | Mask Body: TPE (Thermo Plastic Elastomer) |
| Filter media | HESPA (High Efficiency Synthetic Particulate & Organic Vapor filter) |
| Pore size (µm) | 0,3 |
| Dimension | 3.66'' x 5.04 '' x 4.33'' (widest point) |
| Weight (g) | Mask + Filter: 13.19 Ounces |
| Retention range | 99.97% (minimum efficiency) |
| Ref. standard | P100/0V TC-84A-8062 |
| Temperature | -5°C +55°C; - 23°F to 131°F |
| Notes | Elipse OV/P100 for protection from Organic Vapor, dust, metal fumes, oil and water mists and micro-organisms, i.e. bacteria and viruses |
Customer Reviews
Write a Review
Ask a Question
Filter Reviews:
glasses
woodworking projects
transaction
works
order
SHIPPING
customer service
phone call
horticulture hobby
sprays
03/09/2020
ELISA M.
United States
Excellent, prompt service!
5 star service all the way from my initial phone call speaking with customer service, to prompt shipping that included a Tracking#. Thank you for making my transaction great!!
10/30/2019
Richard C.
United States
Great Respirator!
I do a bit of woodworking and painting in my ventilated garage. Even then, the wood dust and paint fumes are still linger in the air. I had bought these for myself just for that use. They turned out even better than expected that my wife has been using it as well for her horticulture hobby when she sprays her plants. The nice snug fit is comfortable and ensures no particulates getting in. Also doesn't interfere with glasses/safety goggles or hats.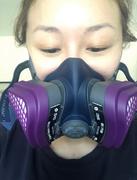 Great.
Works perfectly for all my woodworking projects. Perfect fit. Easy to use. Doesn't interfere with my glasses. Order was processed quickly, and arrived fast.
Exactly what I needed and best price around
I recently switched from wearing the elipse a1p3 to this respirator. The a1p3 is hard to come by in the states so switching to this respirator will allow me have exactly what I need easily at my disposal. The mask and filters are niosh apporoved which is important in the states. The fit is the same as the other mask; comfortable over long periods of time. I wear it up to 8 hours a day and have no problems. Wear with safety glasses and they don't fog up so long as they are acclimated to the environment you are working in. I work with a variety of material, wood, metal, chemicals, etc... and I have no concerns about my safety when wearing the mask. It covers me for everything, so I can easily move from one to the next without switching filters or masks.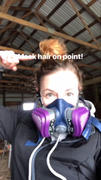 ---
We Also Recommend