Ice Gripster™ 388INT Water Repellent Thermal Insulated Cold Condition Safety Work Glove
13 Reviews |
| | | |
| --- | --- | --- |
| QTY |  Price Per Pair | Discount |
| 1 Pair | $6.18 ea. | 5%  Off |
| 3 Pair Pack | $5.56 ea. | 10% Off |
| 12 Pair Pack | $5.25 ea. | 15% Off |
IceGripster® Hi-Vis orange seamless knit with heavy napped nylon shell. With a 2 layer nylon shell you get extended all day comfort and warmth. A flat dipped etched latex finish on palm & fingers provides a very aggressive grip while maintaining flexibility in cold and harsh environments.
Features:
Seamless construction for a comfortable fit
Water repellent 2 layer nylon shell
Each pair are individually tagged
Sizes M-XL
Hi-Vis coloring makes this product very easy to see
Excellent thermal insulation
Snug stretch fit
Quickly evaporates moisture from the skin
Extra softness for comfort
Launderable for extended life and to reduce replacement costs
Applications:
Frequently used commercial fishing
Utility work
Tower climbing
Refrigerated environment
Any cold weather outdoor activity requiring great grip and dexterity 
Customer Reviews
Filter Reviews:
thing
quality
gloves
idea
warmth
business
order
ones
sawmill
workdays
03/03/2019
Toni D.
United States
Ice Gripster 388INT
I purchased these for my fiance as we work at a sawmill and primarily spend our workdays outside. The gloves are great and we are very pleased. But on the coldest days when temps are hovering around freezing or below, he still cant keep his hands warm. Its nothing due to the gloves, but the fact that he suffered from hypothermia a few years ago and warmth is an issue since. Ive tried all types of gloves for him. My question to you now is do you carry heated gloves? If so, could you possibly send me a link or point me in the right direction to look for them? I wouldnt ask but you have such a mass selection of gloves I wouldnt know where to start looking. Its the one thing we havent tried as not real sure where to look for them in the area in which we live. Again, your gloves are great and the next order will be for myself as the ones Ive bought local dont seem to last long. Hoping to hear back from you soon. Thank you and looking forward to doing business with you in the future.
12/11/2018
Gregory N.
United States
Did not where them
The gloves appear to be of good quality, but I have no idea how effective they are, because I haven't worn them. I no longer need them, as I no longer work outdoors.
10/02/2018
Lamar D.
United States
Ice grippers
Exactly what I wanted. Thank you. They are better than I was expecting
12/16/2017
Lance G.
United States
Ice Grioster
Gloves are warm and have grippy, farelt thick rubber on palms and fingers. Still gives you good dexterity. Being that I'm an Ironworker they were weak on the top of the hand. Grinder Sparks torn through them after 3 minutes. Otherwise a great glove just not with sparks
10/23/2017
Brandon R.
United States
Comfortable, warm, and durable gloves!
I have been using these gloves for the past year now, and they keep my hands warm while I am working in the freezer at my work, handling cases of food products. I reccomend trying these gloves. I have tried several other brands and other types of gloves, and nothing even comes close to these gloves/ (Ice Gripster™ 388INT Water Repellent Thermal Insulated Cold Condition Safety Work Glove).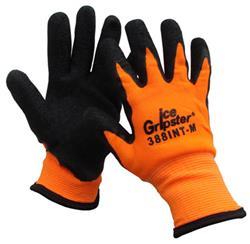 ---
We Also Recommend